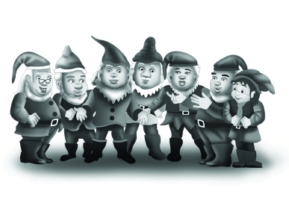 Rescue her? From whom? She had invented the idea. She had made being a wicked queen what it was: something more than tyrannical. She had made them legendary. There was not a royal family for miles around that did not fear her. How many kings had lost a foolish son to a hungry stork? How many beautiful and innocent maidens had grown old and unwed, simply because they were too vain to let their hair grow long? No one seemed to appreciate the genius and complexity of her magic. If nothing else then the spell that made not one, but seven dwarfs sing deserved to get her remembered forever. Undeterred she stared in and through the mirror, out into the future. Two hundred years to be exact, where the cause of her demise would begin. For there, in a distant land, in another kingdom, a child would be born. A girl, whose destiny it seemed was to become the greatest, wicked queen of all.
Now with but a hard boiled egg's worth of sand left in her life-timer, she called upon the spirit within the mirror.
Something glittered in the corner of her room.

'Go away,' she hissed, more to herself than to the black-cloaked figure who stood there, whetting the edge of a scythe. She knew, of course, that he wasn't really there, but still, it irritated her. 'You're early. It's not my time yet. I've still got five minutes. Why don't you go and make yourself useful? You could cut the grass perhaps?' saying which she laughed, something she hadn't done in a long time.